Monster is 8 now and beginning to understand more about the meaning of Easter and why we celebrate Easter. I was looking for a way to share with him more about the meaning of Easter and still have a fun egg hunt as well.
Egglo Entertainment sent us some exciting products to review and share with you. We received the following:
When we first opened the box we first noticed The Egg-cellent Easter Adventure book.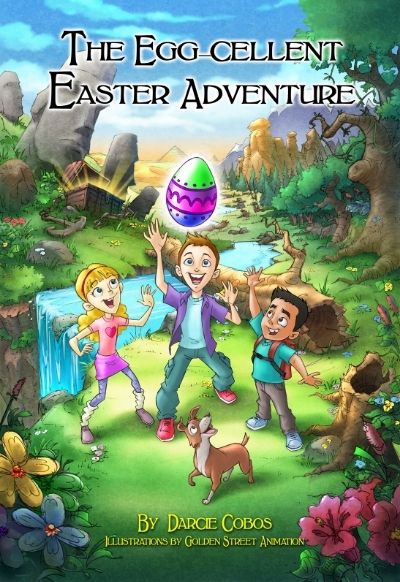 It has such bright colors and caught our eye first! Monster and I read this book together taking turns over a week. This book is kind of long and I suggest breaking it up instead of sitting down to read all at once. We really enjoyed this book. I love how the book takes the children on a positive adventure all while learning about the gospel of Jesus. Monster loved that each time the children found a new egg it had a new clue to the next egg plus a new bible verse. I think that is a great way to learn bible verses as well.
The Egglo Curriculum Download went so well with this book too. I love that the curriculum gave me questions to ask Monster to make sure he was really understanding the book. It also gave us great ideas for snacks and bible alive activities. We found these to be very fun to use. One of our favorites out of the curriculum was the Scripture Scramble! We had every thing we needed for it and it was great to help Monster learn other scriptures. Monster used the Egglo Bible Verse Stickers to help him learn a verse. He would place to sticker either on his hand or journal to be able to look at the verse through the day and memorize it. Playing the Scripture Scramble was a great way to show just how much he remembered from each verse.
Now for the egg hunt! Where we currently live we don't have the greatest access to outdoors. So we kept the egg hunt inside. Egglo's Glow in the Dark Easter Eggs completely live up to their name! One box contains 12 eggs of 4 different colors. Half of the eggs have crosses while the other eggs are plain. To activate the eggs I suggest sunlight over indoor light. I tried it both ways and the sunlight made the eggs brighter in the dark. You can fill the eggs with the Egglo's Treasure Scripture Scrolls and even your own clues as to where the next eggs are. Maybe even sneak in a little treat in a few of them. Monster had fun finding the eggs in the dark. We have never had a glow in the dark egg hunt before but I totally recommend one! Since Monster is now 8 he needs to be challenged more in the family egg hunts and this is a sure way of doing so! The eggs are a harder plastic too it seems rather than the store bought kind. We have played with these several times and so far no broken or cracked eggs.
This product is wonderful. I plan on sharing it with everyone. If you work in a church this product is also a great way to teach young children about Jesus and the meaning of Easter. The curriculum can be used as well in a Sunday school lesson leading up to Easter.
Right now Egglo Entertainment is having a sale on their Egglo Glow in the Dark Easter Eggs. Buy 3 boxes and get one FREE!!! Just use coupon code:

BOGOEGG
If you are needing more than 4 boxes, check out their site for more great deals on Easter Eggs. Also, be sure to check out Egglo Entertainment's Pinterest to find more ideas on how to use the eggs and other Easter ideas.
You can also follow along on their Facebook, Twitter and YouTube
Find out what others are saying about Egglo Entertainment by clicking on the banner below: