We were recently given the chance to review the new Exploring Creation Field Trip Journal from Apologia Educational Ministries.
About the company:
Apologia Educational Ministries is family owned corporation. Their mission is to help homeschooling families learn, live and defend the Christian faith. They provide Science and Bible based curriculum.
About the product: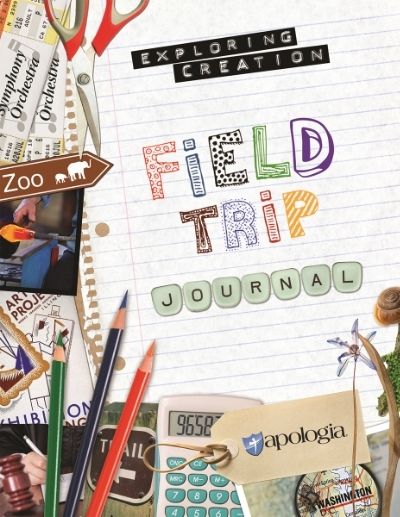 The Exploration Creation Field Trip Journal is a new product from Apologia Educational Ministries. This is a spiral bound book with 64 colorful pages. There are more than100 field trip ideas to study plants, animals, the Earth itself, the human body, our government, culture and so much more. Some field trip ideas include: Parks, Arboretums, Aquariums, First Aid Class, Fossil Hunting TV Stations, Bakery, and even to the Water Park!
There are checklist to help you prepare for your field trip and even preparation ideas before you take your field trip. In this section there are things to do the week before, the night before, on the way and while you're there.
In the Exploration Creation Field Trip Journal you can document up to ten specific field trips. This is a double page spread. On one side you have where you went, an area to draw a map or you can put a picture of a map there. You can also read books leading up to your field trip and there is a place to list what books you read. There is an emergency contact area, this is also great to make sure you go over with children before the field trip. You can also list things you want to see or do. There is also a place to add a drawing or picture of your field trip. On the 2nd part there are two things: Story of my Day. In which you write about the field trip, There is also an area to write about something you never want to forget.
There are also Special Spot pages. This an for an area that is special that you visit maybe often. Could be your backyard, a park, creek, field, It must be wild, and no one maintains it. You can use a 20x20 area or what you feel is manageable to yourself. There is a page for each season of the year. You can use this area to draw an aerial view of your special spot. Use the grid to draw things you see in your special area.
One of the last sections of the Exploration Creation Field Trip Journal is the As I see it pages. This area is for you to complete as desired. Some of the pages have prompts as well.
How we used this product:
One of the first things we did when we got the Exploration Creation Field Trip Journal is open it up and check out all the fun pages. We made sure to write Monsters name in the front of the book where there was a spot for it. We then went through each page one by one. One of the first pages we used was the Places I've Explored pages. The first one is about the state you live in. We wrote down our state and drew a picture of the Texas. Then we started off by listing places we have explored.
We then added a few more places that we want to explore in our state.
The next Places I've Explored page is for places you have explored in the United States. We have explored a couple of places in the past so we went ahead and colored in those states and wrote down the places we have already been too. On the third page there is a place to list places you have traveled around the world. We have not been as lucky to travel outside the United States yet. We have dreams though of visiting London one day!
We were able to use a couple of the Specific Trip pages. This was fun to do to be able to remember the field trips that we have taken and will take. Monster and I decided that we would both use the book together and each write a little bit on the pages about Story of my Day and Something I want to Remember. That way we both can share what we thought about the trip. What is a great about this book is the parent or child can use the book themselves OR together!!
I find this book very easy for both of us to use. I really like that we can document our field trips and places we go that way we can look back at them and enjoy them!
The Exploration Creation Field Trip Journal is available online for $22.00
You can find Apologia Education Ministries on:
Facebook
Twitter
Pinterest
Google+
If you would like to see what others thought of this same product, please click the banner below: