We were given the chance to review

The Torchlighters (Heroes of the Faith): The John Wesley Story

from

FishFlix.com

.
About the company:
FishFlix.com

is an online company that sells Christian and family movies. They have a wide range of movies from children movies to adults, They have comedy, drama, TV series, biographies, educational, Christmas movies and even a $5 movie section.
FishFlix.com

believes

that media and entertainment are gifts from God that help to spread his message with creativity and excellence.
About the product: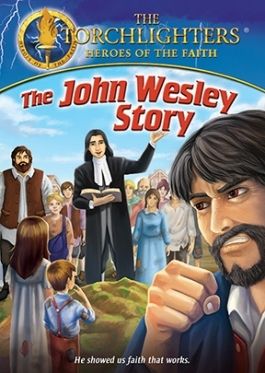 The John Wesley Story is based on the priest John Wesley who was the founder of the Methodist movement.
When John Wesley was 6 he was save from his burning house miraculously. His Mother calls him "brand plucked from the burning." John's mother believes that God has saved him for a special purpose in life. As an adult man, Wesley tried to find his special meaning in life. During this time he even sets off for America to try to get Native Americans to convert to Christianity Unfortunately for him it does not work out so well on his own. John Wesley, after many years of struggles, finally realizes he is a sinner in need of a savior.
John tries to spread his message but it is not welcome in the churches. John then has to go against the rules and take his message outside the church walls to the needy and those who are outcasted.
Torchlighters: The John Wesley Story

is an animated film. It is thirty minutes long and aims for ages 8-12. However, it is great for family movie night!
The Torchlight Series show kids what it is meant to be a Torchlighter in hopes that they too will want to carry a torch of faith and serve Him as well.
Right now you can buy this

DVD

for $9.99
Torchlighters: The John Wesley Story

includes these special features:
English and Spanish languages and subtitles
55 minute documentary on John Wesley
Leaders guide in PDF
Student handouts in PDF
Additional resources at www.torchlighters.org
What we thought of the product:
Monster really enjoyed

Torchlighters: The John Wesley Story

. He has watched the DVD several times and was able to learn about the history of who John Wesley was and what he did in history.
I really liked that the message was a good, clean message. At Monsters age he has taken notice of others who help others and has talked about ways he can help others. I think this video is great for those younger children wanting to learn about John Wesley and his history. Even though we are not Methodist, I still found this video worth watching several times and very interesting to learn about John Wesley and his back story.
You can find FishFlix on their social media:
Facebook
Twitter
Pinterest
Google+
YouTube
Also, please stop by and check out what other TOSReviewCrew members thought of this movie and others they got to try out! You can click on the banner to find out more: