We were recently given the chance to review Sam the Minuteman-Study Guide (e-guide) from Progeny Press.
Progeny Press is a Christian based company owned by Michael and Rebecca. They both write most many of the guides, but rely on many authors to write many of the study guides. Progeny Press has over 100 literacy guides for students to use, all with a Christian perspective.
Study guides start with Kindergarten and go through High School age.
There are different levels of study guides as well:
Lower Elementary
Upper Elementary
Middle School
High School
You can also get the study guides the following ways:
Study Guides prices are between $11.99-$21.99


You can also order book to go along with the study guide in their bookstore.
Sam the Minuteman is about a young boy experiencing life at the start of the American Revolution. Sam lives with his Mother and Father in Massachusetts. All the people are unhappy because the British soldiers are wanting to take their weapons and gun powder! Sam must step up at a moments notice to help his Fathers and the others. Sam's best friend is injured in the first encounter and then Same becomes so angry that the next encounter with the British soldiers he is able to help drive them away.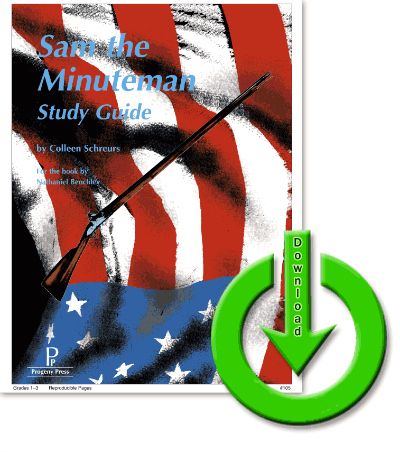 Sam the Minuteman Study Guide is a tool to help readers comprehend the book they have read and enjoy the literature. The Study Guide contains:
Synopsis
Background Information
About the Author
Before you read activities
Vocabulary
Optional Activities
Cause and Effects
Word pictures
Looking at the story questions
Important words to remember
After you read activities
Additional Resources
Answer Key
Monster and I have been looking at other ideas for History and this came at a great time. I feel like Monster is finally at a great age to start learning about the American Revolution and this is a great product to use to get him interested in the American Revolution.
I really like that the Study Guide started off with a few different Before you Read Activities. I like this because it gets them interested in what the story is going to be about and what they are going to study.
One of the first things we did was create a timeline out of the Before you Read Activities. I felt this was very easy for Monster to follow and he was able to create most of it on his own.
For the Vocabulary we do not have a dictionary which is on the list of recommended items to have with this study guide. We just used google for this. Most of the words are simple and pretty easy to figure out when you read the story. Monster really enjoyed finding the vocabulary words in the story as he read along and was able to understand what they meant and how they were important in the story.
One of the things I really like about this study guide is how easy it is to use the pages. Monster can do 2-3 pages a day in his study guide which is just enough for him not to get tired of doing it. I also really liked that they included activities that related to the bible in parts of the lesson.
You can find Progeny Press on their social media:
Facebook
Twitter
YouTube
If you would like to see what others thought about this product and other study guides, please click the banner below: