We were recently given the chance to review Elementary Spanish 1: Grades 3-5 from Middlebury Interactive Languages.
Monster has been asking for about a year now to take a Spanish class. Since we are no longer at our co-op this year and I barely made it through Spanish in High School, reviewing the Elementary Spanish 1: Grades 3-5 came at the perfect time.
Middlebury Interactive Languages was founded in 2010.They offer all students access to several language courses online.
Elementary Spanish 1: Grades 3-5 from Middlebury Interactive Languages is in introductory course that provides fun with learning. Each lesson starts off with a story and has words that the children will be learning for each one. The stories are based on authentic stories, myths or legends from many Spanish speaking cultures. This course focuses mostly on learning vocabulary words and basic grammar is learned through the stories, games, songs and activities in the lessons.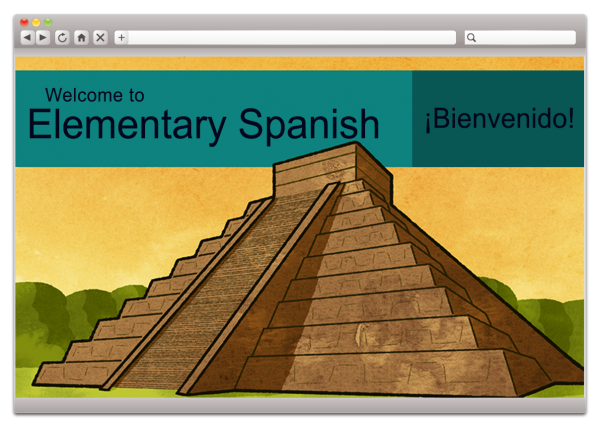 With Elementary Spanish 1: Grades 3-5 students become comfortable reading, writing, speaking and listening to Spanish meanings. Since this is a starter class, you don't need any previous classes before this one.
What we think:
Monster has really loved using this program. I think this program came at a perfect time for us too. We were trying to add in new and fun curriculum to add to our day and this was the perfect fit for us. Monster even will ask to do this program before starting other workbook work.
Some of the main things that I really enjoy about this program are:
Colorful pictures- For children I feel like this helps keep them engaged.
Story- I love that they start with a story before learning your words and then you go over the story again and see if you can pick out your new vocabulary words. What a great way to keep children interested and listening!
Record buttons- There are spots where you can record yourself saying the words. They also include the word again if you need to rehear to word. This is one of our favorite features. To be able to hear yourself saying the word really helps to make sure you are understanding the correct way to say the word.
Assessments- at the end of each lesson there are areas to quiz yourself to make sure your are understanding the words you are learning. I love this feature as I can check to make sure he is understand each vocabulary word and their meaning.
The fact that Monster is actually learning from this program is a great thing of course! We have been visiting family in Houston and he is already telling them how to say certain words he has learned in Spanish! I love that he is excited about a program that is a learning tool!
Are your children interested in learning another language? This is a great way for them to learn! Plus it is all online!

You can get this program yearly for:


$119 per semester without a teacher
or
+$175 per semester with a teacher (total for 1 student comes to $294)
For the program we reviewed 2 semesters comes out to 45 days of content.
If you would like to check out
Middlebury Interactive Languages
and what other languages they have to offer K-12, please feel free to click on their social media accounts below:
Please feel free to click the banner below to see what others thought of this program and other languages from Middlebury Interactive Languages: