Apologia Educational Ministries
is the #1 publisher of creation based Science and Bible curriculum. Apologia Educational Ministries is a family owned company. Apologia's mission is to help homeschool families learn, live and defend the Christian faith. They have several type of tools to help homeschool families and grades K-12th.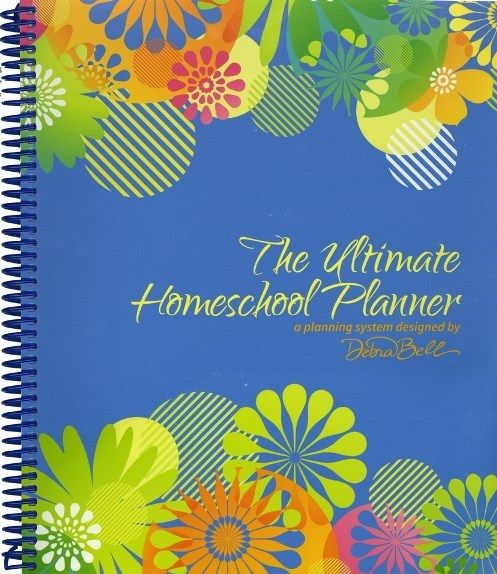 The Ultimate Homeschool Planner-Blue Cover contains so many great tools for homeschool parents.
Sturdy cover and back with pockets at each end.
Yearly calendars that start at 2015 and go till 2023
User's Guide- explains how to use the planner and tips to make it work well for you.
One Year Planning Grid
Student Goal Setter
Pre-Planning Guides- resource list for each student
Monthly Planner-calendar style with fill in boxes for dates.
Weekly Planner- with spots for small notes, supply list and appointments. There is also an area for you to record memorable moments and evidence of grace.
Records-scores and grades. You can also write in your reading list and field trips/outside activities.
Teaching Tips
High School Planning Guide
Year in Review
Notes-3 pages of pages to take notes through out the year.
When I received
The Ultimate Homeschool Planner-Blue Cover
I immediately noticed the great covers. Planners I have used in the past were either card stock type cover that had been laminated or very flimsy. I noticed how the cover and back were made from what feels like a thin plastic. It is hard to tear and won't easily destroy if a kid accidentally stepped on it! Next I opened The Ultimate Homeschool Panner-Blue Cover up. I sat down and for the first few minutes just went through each page to see what each page offered. I then went back and read through the User Guide. Normally with planners you don't get User Guides. I loved the way everything was set up and explained. It came so easy for me to understand and follow along with.
After using
The Ultimate Homeschool Planner-Blue Cover
I have really enjoyed it. I love how easy it is to use and keep track of everything I need to keep track of. One of my favorite parts so far has been the are for memorable moments. I think that is so great that that was included. You always have moments where you want to record them and then something happens and you forget. Having the planner with me and usually on my desk it is within reach to be able to write down moments quickly. Using the One Year Planner Grid helps me to remember important dates that are coming up. I sat down and wrote in the two upcoming months and all important dates and holidays so they are right at my fingers now. I also love the Weekly Planner. That fact that there is a supply list on the side of each one helps me to remember what I need to grab when I am out shopping for the week. I am also loving the Reading List area. That is one area we struggle with ( Reading) so to have a list to be able to write down which books we are reading is great so we know how many we have read or really need to catch up on!
Some of the sections we have not been able to use yet like the High School Planning Guide. I mean Monster is only 8 right now, but I like that it was included. I enjoy checking those out and find it interesting to know what we will look forward to in the future. Way, way, way future! ;)
I would recommend
The Ultimate Homeschool Planner
to any homeschool family looking for a great homeschool planner. You can get the planner online for $29.00
If you would like to see what others thought of this planner, please click on the banner below: