We were recently given the chance to review Sheldon's New Primary Language Lessons workbook from Brookdale House.
Brookdale House publishes educational material for homeschooling families, private schools and public school children. Brookdale House had their first homeschool educational material published in 2006.
The goal of Brookdale House is to publish educational material for homeschoolers and private school children that are design to teach on multiple levels instead of one level at a time. Every curriculum Brookdale House publishes is designed to make learning easier and more efficient.
Sheldon's New Primary Language Lessons is a beginners workbook for elementary students to teach the 8 parts of speech and the fundamentals of sentence and paragraph writing. In this updated workbook the children are able to write in their text in the workbook itself. This workbook also follows the more gentler Charlotte Mason style.
Lesson types included in the workbook are:
Copy-work
Narration
Dictation
Punctuation
Parts of Speech
Sentences
Paragraphs
Poetry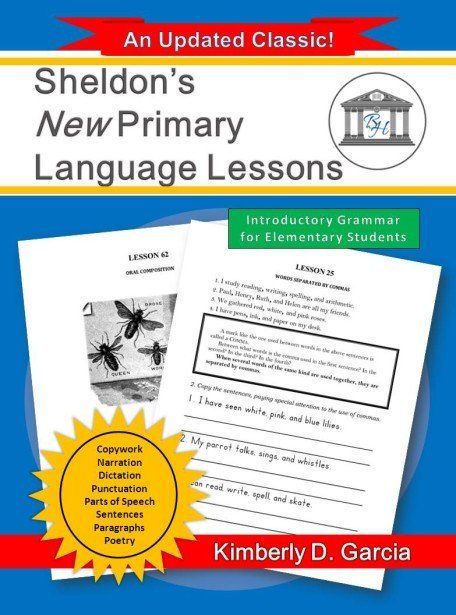 What we thought of Sheldon's New Primary Language Lessons:
When we first got the workbook. I spent some time going through the book myself before starting it with Monster. I was worried because this book did not look like something we would normally use for Grammar. Plus some of the things it taught we have already gone over and I was worried about Monster being bored with it.
When using the book one of the first things I noticed was the pictures we were supposed to be using in our picture studies were small, black and white and some were not very focused. Monster had a hard time seeing some of the things he needed to see in the photos for the questions. Monster and I discussed what we thought of the photos and we both agreed it would make more sense if the photos for each photo study were larger and maybe on a page of their own. We also think that by adding them in color it would help see everything going on in the picture.
One of the things that Monster seemed to really enjoy was filling in the Picture Story activities. He really liked filling in the blanks and then coming back and telling the stories in his own words.
Another fun part of the book that Monster and I both LOVE is the Copy-work. Monster does really well with copy-work and since he is learning cursive I love that cursive copy-work is included in Sheldon's New Primary Language Lessons.
Another plus to me is the Poetry that they include. Monster and I have not done a whole lot of Poetry yet, so I love that it is included in the workbook because I feel like it is a great introduction. Plus the poetry that is in the book is simple and not too hard, making it fun for him and not boring or frustrating.
One thing I did notice and find a little harder is the fact that there is no separate teacher guide. The teacher teaching spots are located in the child's workbook. I am honestly not a big fan of this. I like my teacher guides in my hands as we go through the lessons. I do not like having to sit over him or directly right next to him. I know that sounds bad, but we like to spread out when we are doing lessons and it is not the easiest to do with this workbook. I just wish they had the teachers guide book as a separate material.
Overall, I think this book would work for those that like the Charlotte Mason style. That is not our style. However, Monster so far seems to do ok with the book and I plan on continuing the book with him as extra to his already Language Arts that we do.
You can order Sheldon's New Primary Language Lessons for $19.99
If you would like to find Brookdale House, you can find them on their social media accounts:
Facebook
Twitter
Pinterest
Google+
If you would like to see what others thought of this product or other Brookdale House products, click the banner below: