We were recently given the chance to review

Expanders

from

SimplyFun

.
SimplyFun

is a company that wants to make the world better through play. Play is very important for the development of thinking skills, creativity, and strategy. Play also helps families connect with one another. SimplyFun reinforces this through their games they sell. SimplyFun produces interactive and educational games designed for learning.
SimplyFun carries more than 100 award winning products that meet children, parents and teachers needs.
Most of SimplyFun's games can be played in 30 minutes or less. That is perfect for any family to engage together.
SimplyFun carries games for:
Toddlers
Preschool
Early Elementary
Upper Elementary
Teens
Families
A great thing about
SimplyFun
is they offer a great program to join if your interested. You can become a Playologist Builder! Check
HERE
for more information on this program.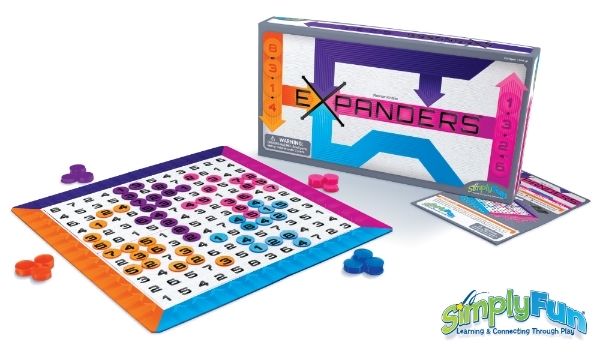 We were sent

Expanders

to review.
Expanders

is for ages 7 and up.
What you get in the box:
128 Plastic Expander Tokens ( 32 of each color)
2 Circuit Board Fillers
6 Numbered Double-Sided Circuit Boards
1 Mainframe
1 Expander Token Storage Bag
What will your child will learn while playing

Expanders

?
Your child will learn Reverse Addition, Spatial Reasoning, and Critical Thinking.
You can play with 1-4 players at a time.
The objective of

Expanders

is to fill the Mainframe by using your tokens to cover the numbers that connect and add up to their sum. You must find your best location to place the Expander tokens. You can find pairs, fill open spaces, expand numbers and even block your opponent! In order to win the game you must be the first player to fill the Mainframe with all of your Expander tokens!
One of things I liked about this game is when setting up the Mainframe you can choose a level by choosing if you want to use the numbers 1-8 on one side of the Circuit Board Fillers or on the other sides there are 1-12 for a more difficult challenge. There are also a few different blank Circuit Board Fillers. The blanks ones are used when playing with 2-3 players. When using 4 players you will not need any of the white fillers. I also really liked that you can place the fillers one the board in any order. Giving you a chance to change up the game every time you play! That makes the game a challenge each time.
It took me reading through the instructions a few different times to make sure that I completely understood the game before we played. Monster and I played several different times together and even included Daddy in a few different games. I really like that this game makes you think. Even though Monster has moved past basic addition and subtraction, this game is great for him to keep practicing them without noticing that he is actually learning. I have noticed that after playing this Monster is starting to be quicker with his answers as well. He is picking up which numbers go together much faster than before. There are 3 different Actions you can play on the board that can be played in a certain order or way. After the 4th turn you can use any of the Actions at any of your turns.
You can play the game as a single player as well. I have used this a couple of times with Monster. I set the board up and when playing this way you only use the Action 3 to play and you cover the board yourself. You can play your pieces vertical or horizontal. You use all the colors of the tokens and play till you either run out of tokens or can no longer play any tokens anymore.
Expanders

is a game we can continue to use for several more years. One thing I would LOVE to see is them add fillers we could use for multiplication and division.
You can purchase Expanders for $34.00. Right now you can use the code: SHREVIEW for 15% off your first purchase! Act fast though, code will expire July 31, 2015.
You can also find SimplyFun on their social media accounts:
Facebook
Twitter
Pinterest
Instagram
You can also see what others thought of this game by clicking on the banner below: