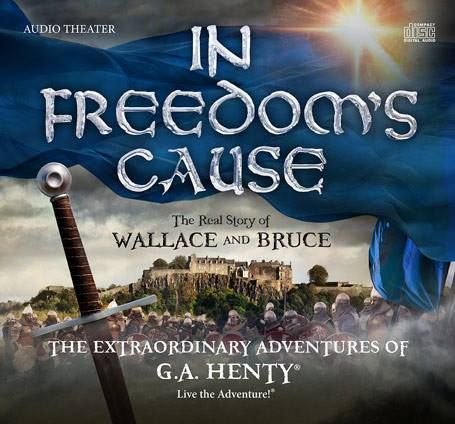 Monster and I have not done as much History this year as I would of liked. I am always looking for new ways to learn about history. I felt that the

In Freedom' s Cause Single Package

, from

Heirloom Audio Productions

, would give us the perfect chance to try out audio books! I had never heard of G.A. Henty until I was offered to review this and I am very glad I was. I will be looking into more by this author!
What we received:
One single set of 2 CDs in a full color trifold case. You can order here for the low price of $29.97
Digital Bonuses with online access:
About the story:
This Christian audio drama is 2 hours long, is based on the book from G.A. Henty, and is about the battle for Scotland to become free. William Wallace and Robert the Bruce, along with Ned Forbes, lead their Army to fight the King and his men to help protect and free Scotland.
How we used this:
On the way to co-op on Friday mornings we would listen to this instead of the radio. Monster and I listened together and then my husband would listen to it also on his way to and from work the other days. I was able to take some of the questions from the study guide and discuss them with Monster as we listened to the story. I am planning to keep the study guide and cd for the future and plan to review it again when we learn more about Scotland!
What I thought:
I honestly loved it! I have never been one to listen to stories or people read to me, but I think because it actually sounds like you are listening to a movie instead of just a reading, I really liked it. It is one of those that you could close your eyes and listen to and feel like you are right there in the middle of everything going on. I really liked how the story taught about being honest, keeping your faith in God, helping others, and even some history! I loved listening with Monster and this audio production being something the whole family could enjoy! We could listen to this and discuss it and it seemed more like a fun activity than it did school work. We plan to use this again!
The study guide has three main focus areas. The Listening Well are questions I was able to ask Monster to make sure he was listening and able to understand what was going on. Even though the study guide could be printed and used like worksheets, I simply asked Monster the questions from the study guide and allowed him to answer questions that way. The second part are the Thinking Further Questions. These questions make your child think. I really enjoyed these to see how Monster would answer and if I had a different answer than Monster or how my answer and his would compare. We were also able to ask my husband a few of the Thinking Further questions to see how his answer compared to ours. The last part are the Defining Words. This was not a part we used as much as i had hoped. I think Monster still may be a little young for some of those words and meanings. If Monster wanted to know what a word meant we simply looked it up to find out. I think these will come in handy later when Monster is a bit older and we study Scotland and reuse this story again! I also liked that the study guide has extras in it. There are links to a website that shows the British Museum. There are also notes on the history of Scotland and three short bible studies at the end. Overall I find the study guide to be a wonderful tool to go along with this audio production!
What Monster thought:
" It was really good. I really enjoyed being able to listen to the story in the truck. I like listening to the story and hearing all the action going on. It was like I was really there!"
Monsters own words!
Find them here:
Facebook
Twitter
Google+
Pinterest
Make sure you stay up to date as they are coming out with a new audio book called With Lee in Virginia. It is set to release right around Memorial Day!
Want to know what others though of this audio book please check the reviews out here: