USAolopy
is company determined to bring fun games to families.
USAolopy
has been bringing fun games to families since 1994. A great way to bring fun, laughter and memories to families all around.
About the games:
Tapple: Fast Word Fun
- is an award winning game. A faced paced word game for ages 8+. This game gives family and friends excitement as they rush to beat the timer!
Simply pick a card from the stack, ( 144 fun categories) white and blue side are easier and the red and yellow side area little harder, announce the topic and push the buzzer and pass to the next player. You have 10 seconds to push a letter and say a word that starts with that letter that goes with the topic! You can play with 2+ players. ! First person to 3 cards...wins!! This game is great for family time, friends visiting or even to help with vocabulary! When you're done playing, the cards hide away on the back/bottom of the game. Perfect for keeping up with them. You will need two AA batteries for this game.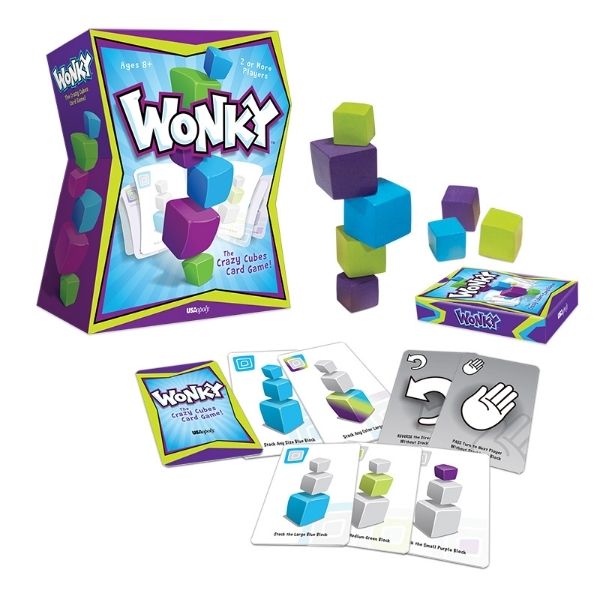 Wonky: The Crazy Cubes Card Game- is a fun filled card game where you build wobbly towers with odd shaped blocks. Trick your opponent as you play a small block on a large block. Then they have to find a way to add another block without tipping over the whole tower! You can also play a reserve card for payback! Play all your cards without tipping over the tower and you WIN!
Wonky: The Crazy Cubes Card Game comes with 9 odd shaped blocks ( Wonky blocks have 3 flat sides and 3 curved sides) and 54 strategy cards. Can be played by children 8+ and you need 2+ players. When you are done playing you can place all pieces in a storage bag that comes with the game.
Both games retail for $19.95
What we thought:
Monster and I were both so excited to open up and try both games right away!
Tapple: Fast Word Fun- Monster and I both loved right away. It came at the perfect time too. Monster was learning Verbs and Adjectives and both of those were topics on the cards! We were able to use both of these as a learning tool to go along with our lessons! This game is also a great way to get your mind thinking. I really thought I would be able to fly though it, but some of them make you think!
For the easier cards I think younger kids could play along if you don't use the timer. I know the timer makes it more fun, but for younger siblings ( or in our case nieces and nephews) who want to play and learn the game, not using the timer is a great way to get them started! We have played this game several times and it pretty much stays out and ready to go when we want to play a round. Right now we are visiting family in Houston and even brought this game along. The adults even enjoyed playing against each other last night while waiting on dinner to cook! This game is faced paced so you can get a few rounds in very quickly!
Wonky: The Crazy Cubes Card Game- We also had a blast with this game. Not knowing which card your opponent was going to play was nerve wrecking and fun all in one. It is interesting to watch though and see how the tower can be built without the blocks falling over. Also learning how to set the blocks on the other blocks so that balance out. Monster learned very quickly which blocks were best to play first and then which blocks to try and use last. It is great watching his mind work and watching him figure out which block he should and can play next!
You can find USAolopy on their social media at:
Facebook
Twitter
Instagram
Pinterest
You can also see what others thought about these games by clicking the banner below: