We were recently given the chance to review Surfing the Net Science (physical workbook) from The Critical Thinking Co.
The Critical Thinking Co. was created by John Baker in 1958 under the name Midwest Publication. In 1976 the company changed names to Critical Thinking Press and Software. Then in 1997 the company once again changed names to Critical Thinking Books and Software. Finally, in November of 2003 The Critical Thinking Co. was adopted and used. The Critical Thinking Co. now boost over 200 titles in Reading, Math, History, Science and Writing.
The Critical Thinking Co. is a family owned and operated business. Michael Baker now operated the company. Michael is John Baker's son.
The Critical Thinking Co. designs critical thinking into the Writing, Reading, Science, Math and History lessons to help student achieve higher academic results.
The Critical Thinking Co.'s Mission Statement is:
"The Critical Thinking Co.™ is committed to developing students' critical thinking skills for better grades, higher test scores, and success in life. We do not teach through drill and memorization or teach to the tests—we empower the mind"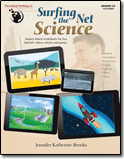 Surfing the Net Science from The Critical Thinking Co. teaches middle and upper elementary age Science to life! Surfing the Net Science uses free online Science resources. Surfing the Net Science teaches students to research information on the internet to help them learn that the internet can be used for information resources. Each activity can be either student led or teacher guided. Surfing the Net Science is recommended for grades 3-6th.
The topics covered in Surfing the Net Science are:
-Animals
-Geology
-Energy
-Space
-Atmosphere
-Plants
-Ecosystems and Habitats
You can buy this book as a paperback for $24.99 or you can order this book as an ebook for $24.99 also.
What we thought:
When we first got Surfing the Net Science from The Critical Thinking Co. we sat down and opened the book to look over it before starting it. One of the first few pages has the Overview and How to Use This Book. Monster and I reviewed this together. I wanted to make sure we both understood how to use this book.
Another great tool in the first few pages is the Activity Layout. This area teaches you what each symbol means and how to use it in the book. I found this to be a great resource for us to use as we went through the book.
Monster and I have not done too much workbook type Science yet. He is really into hands on so I was a little worried about how he would take to this workbook. We started with the very first section and did most of the work as a team. This book is suggested for grades 3-6th. I think us working together helped him, but I would be afraid that some of the words might be too hard for a child working through this workbook on his own.
Even though there is not much hands on using this book, there are activities online ( hence the name of the book!). There were times when Monster had to watch a video online or do some sort of activity. So you are not doing just a worksheet. We like that!
One of my favorite activities Monster did was an online dissecting of a frog. This was in the very first lesson that we did. He was totally grossed out with it, but we both loved that it was online and not really in person having to dissect a real one!
Although I would of never thought to buy this book on my own, I am really glad we were introduced to this book. I really like being able to do this Science and use the internet for researching whatever we are studying.
I would recommend this book to others if they are looking for a fun and interesting Science to use!
If you would like to find out more about The Critical Thinking Co. please find them on their social media accounts:
Facebook
Twitter
Google+
Pinterest
If you would like to see what others thought of this product or other products by The Critical Co. Please click the banner below: