We were recently given the chance to review The Brinkman Adventures: Season 3 (physical CD's) from The Brinkman Adventures.
The Brinkman Adventures was created one hot day in July by Ian Bultman. Ian was sitting alone in a hotel room reading his bible. Ian came across a verse in the bible Luke:8:16-18
"No man, when he hath lighted a candle, covereth it with a vessel, or putteth it under a bed; but setteth it on a candlestick, that they which enter in may see the light. For nothing is secret, that shall not be made manifest; neither any thing hid, that shall not be known and come abroad. Take heed therefore how ye hear: for whosoever hath, to him shall be given; and whosoever hath not, from him shall be taken even that which he seemeth to have."
After reading this verse, Ian decided that he needed to create a new radio station about missions and tell the real stories of real missionaries and their adventures.
One of the neat things about this series is The Brinkman Adventures are based on true events with real life families. The names have been changed but each person plays themselves on the audio dramas.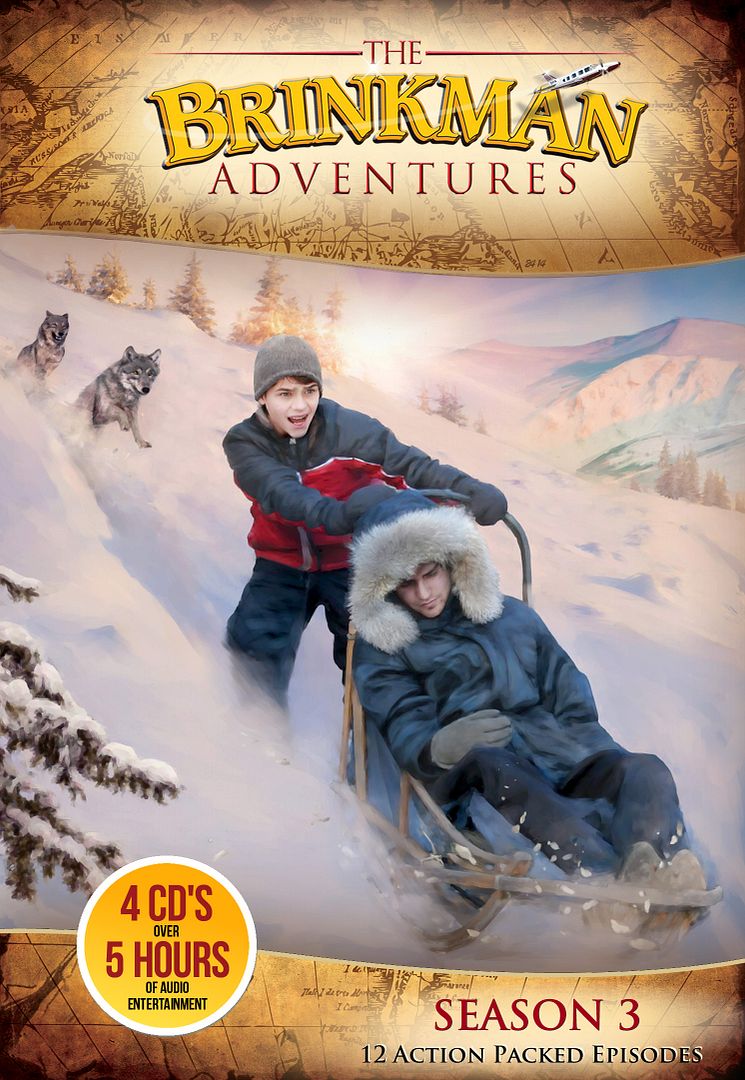 In The Brinkman Adventures: Season 3 you follow the Brinkman family as they adventure through the Taliban jail and terrorists to scary wolves and the cold weather! Every challenge will push these characters to the limits of their endurance and force them to face their deepest fears. Travel the world from Ecuador to Kashmir and from Africa to Alaska all while discovering Gods truth.
The Brinkman Adventure: Season 3 set comes in a plastic case (just like a DVD case with a spot for each CD) and includes over 5 hours of quality family entertainment. There are 4 audio CD's with 12 action packed episodes. Each disk contains 3 episodes each. These episodes are:
Disc 1:
Disc 2:
Disc 3:
Disc 4:
10. Busy Bees and a Bullhorn
11. Missionary Tourist pt.1
12. Missionary Tourist pt. 2
If you go online to The Brinkman Adventure website you can even find more adventures, learn about the events in each story and go behind the scenes. You can also meet and communicate

with the actual missionaries.
What we thought:
Monster and I both are huge fans of audio drama's. We really enjoy getting to listen to the stories.
Monster and I would listen to The Brinkman Adventures: Season 3 stories doing each story daily. We started with Disc 1, Episode 1 on Day 1 and went from there. Monster and I both found the stories to be very interesting to listen to each day and be able to discuss about the events that are going on in each story. Monster is getting to that age where at church they really begin to talk about Missionaries. Being able to listen to these CD's and hear what some of these missionaries experienced has been a great learning tool for Monster as well.
I did notice on their website that they have a curriculum for season 1. I would really like to see a curriculum for each season to go along with them. These would be a great study tool.
If you would like to order Season 1, 2, or 3... or all of them... you can do so HERE. They use a donation type payment. There is a suggested donation price but you can pay more or less depending on your budget. You can also order the physical CD's which comes with free shipping or you can order a downloaded audio.
If you would like to find out more about The Brinkman Adventures please find them on their social media account:
Facebook
If you would like to see what other members of the TOSReview Crew thought of this product, please click the banner below: