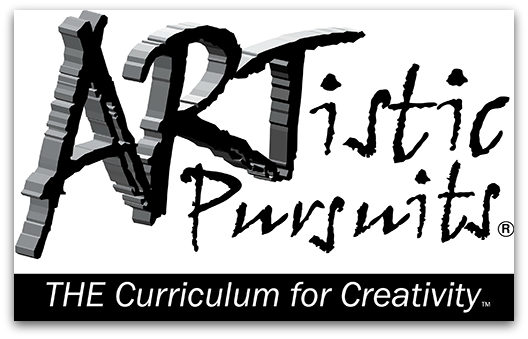 ARTistic Pursuits

is a homeschool art curriculum for grades Preschool through High School created by Brenda Ellis. These book help teach expressions and technique in Art.
About the book:
Early Elementary K-3, Book 2: Stories of Artist and Their Art

focuses on the lives of some Artist and the beautiful creations they were able to create and how. The book covers the late 13th century to the 18th century using fictional stories. Artist from Giotto, Michelangelo to Turner. Each lesson tells a little about the artist, the type of paintings they created and what they used to create their art. The lesson takes about 10 minutes, then is followed by showing a piece of work by the artist and some questions the children can answer relating to the artist and their art. The next part is the art in which the child will create.
There is a total of 85 pages with 36 lessons and 175 illustrations. Book 2 is for children ages 5 and up. Monster is 8, so this fit perfect for us.
How we used this product:
We have been using Book 2 weekly in our homeschooling routine. Monster is even able to read most of the lessons on his own and then we can discuss what he read about. On the page where it tells you about the art project you will be completing, there is a list of items you will need for that project. I like that this is listed out this way to make it easier to know which supplies are needed. For children that can read, it makes it easier for them to be able to get the supplies themselves.
For parents looking for a easy to use Art program, this one works since it tells you everything you need and how to use it.
Our two favorite lessons so far were:
Project 1: Cimabue- For this lesson Monster and I read the story together, went over the story and then we went outdoors. Where we live was the perfect area for this lesson. We live basically at an outdoor mall. We needed to go outdoors and look at buildings. There are tons around us. After looking around we were able to pick out which building Monster wanted to paint.
As he worked, we talked about the lines in the building and the different colors each building has.
Monster choose to paint the clock tower we have. We used water colors and a canvas. In project 1, it gives you tips on using your watercolors as well. Things I did not even know, like adding drops of water to each color to soften them ( I have never learned that before!). So, I found this very helpful. Also, giving tips on holding the paint brush correctly.
Another favorite lesson was project 6: Limbourg- Monster seemed to really enjoy this story. He was able to read the story himself. We then discussed the Book of Hours. For his art lesson he would be learning sketch to watercolor. Monster enjoys drawing, so I knew he would like this one. Again, we went outside to our mall area and walked around. This time he choose one of his favorite areas. The water fountain.
He started by drawing in his water color tablet.
After he was done drawing, we went back upstairs to paint.
This was his final result. He was able to sketch out the fountain and tree trucks. Then he filled in with his watercolors.
Although Monster takes a art class at co-op, he has still really enjoy using this program at home. We both find it very easy for the lessons to be set up. The stories are the perfect length of time. I love this book as it is something we can do either together or he can do on his own.
I also really like how easy this book is for parents that may not be big into art. This book is so easy to follow along that parents who might not trust themselves to do Art with their child, CAN!
You can also find ARTistic Pursuits on

Facebook
If you would like to see what others thought of this program or look for reviews on a certain grade level book, please click the banner below and read what others thought!