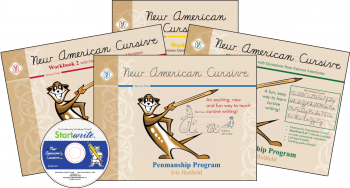 Monster and I were sent

New American Cursive: Penmanship Program Workbook 1

by

Memoria Press

to review.

Cheryl Lowe created the company in 1994. Memoria Press is a family operated publishing company. They produced Christian material for homeschooling families and private schools.
Please feel free to read more about Cheryl Lowe and all she has done

here

.
Cursive is something that most schools are no longer teaching. I felt like this would be a good chance to let Monster practice learning the letters in cursive.
New American Cursive is focused for children in First grade and up. Monster is technically 2nd/3rd grade, but this book is a great starter for children to be introduced to writing in cursive. Mr. Meerkat is the guide and makes things fun for the children. The step by step instructions make it very simple for children to follow along.
One of the first thing the book teaches is the three P's
Posture- this is always good for you no matter what type of writing you are using. Learning to sit up straight with both feet on the ground is something children will use if taught at a young age.
Pencil Position- teaching this at a early age helps with writing, some older children just might need a good reminder.
Paper Position- this was a great review with Monster since sometimes he likes to move his paper around. It was easy to show him the correct way to place the paper that would help make writing easier and nicer.
The first few pages are instructional pages. Teaches line formation, like curved lines and straight lines.
Each both introduces both a capital and lower case letter. There are also review pages after every few letter. That way the child can make sure they remember how to correctly write those letters.
With the first letter (Aa) it also teaches the child to:
Say the letter
Feel the letter
Trace the letter
This is reminded on each letter that comes up to help the child understand the letter.
At the end of each letter page is a fun exercise and art work page. On this page they get to draw some fun art work on their choosing. Monster likes to draw and this also helps them with drawing different types of lines and they don't realize it.
So far Monster and I have both really enjoyed using this book. I let Monster use this book almost daily. He completes a letter each time. Being as Monster is a little older, he is able to complete this book while working independently. He is able to complete his lessons from the book in about 15 minutes. I feel this workbook is fun for him and he seems to really enjoy learning to write in cursive while using this book. I am also very impressed with the spacing in the book so it gives the children plenty of room to try the letter out on their own as well. At the end of the book they give you a handwriting evaluation pages. This is a great way to see which letters Monster needs any help on in the end before starting workbook 2. I feel this is a great program to start young children or beginners to cursive on. We are already looking at workbooks 2 &3 to work from next!
These workbooks price at $22.95 per book.
If you feel you are interested in using any of the Memoria Press products please feel free to check out their website:
http://www.memoriapress.com/
You can also find Memoria Press:
Also, please check out what others thought of the product as well by clicking on the banner below: